Updates for January 2023
The new year is here and with it a bunch of new features: Job Requisition, employee-wise accounting entries, user experience enhancements, and more. Keep reading to find out!
---
HR
I added a few new features to the recruitment and leave management modules last month. Additionally, the Frappe community also showed some love for the module by contributing a few UX enhancements.
Job Requisition and Metrics
A Job Requisition is an internal document raised to request a new hire. These requisitions are then converted to Job Openings or considered for budgeting while making the Staffing Plan.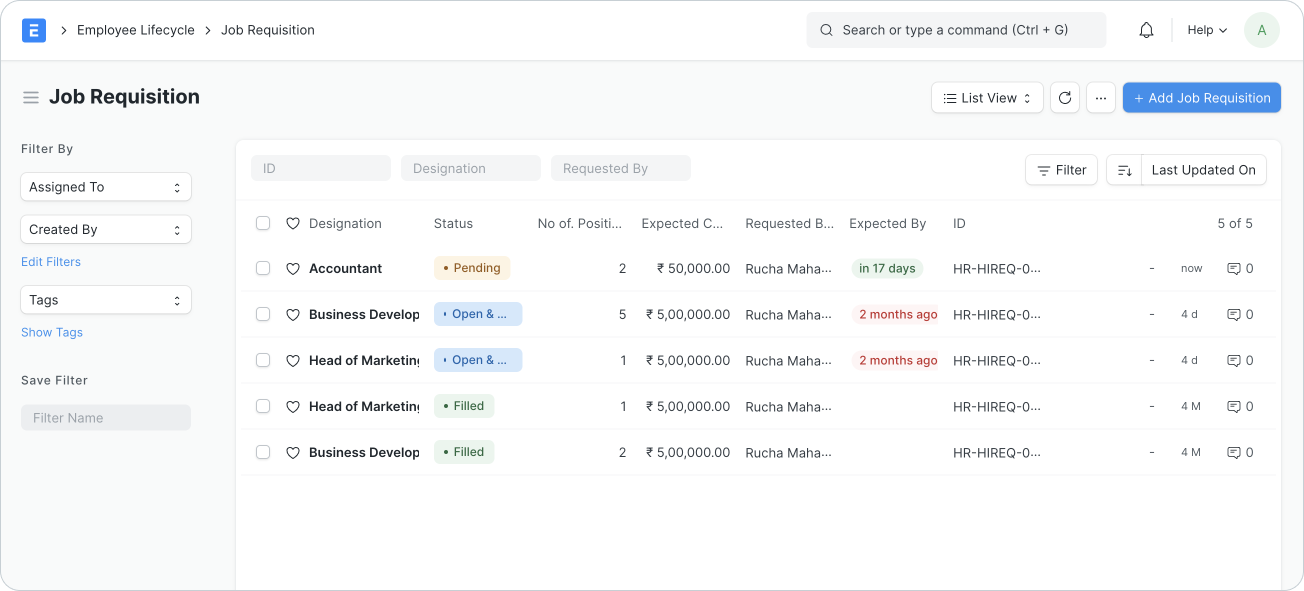 You can create a Job Opening against the Requisition or associate an existing one. Instead of creating a Job Opening, you can also check if there are any existing Employee Referrals for that designation.
The Time to Fill metric measures the number of days it takes to fill an open Job Requisition.

While creating a budget with the Staffing Plan, you can fetch the existing Job Requisitions.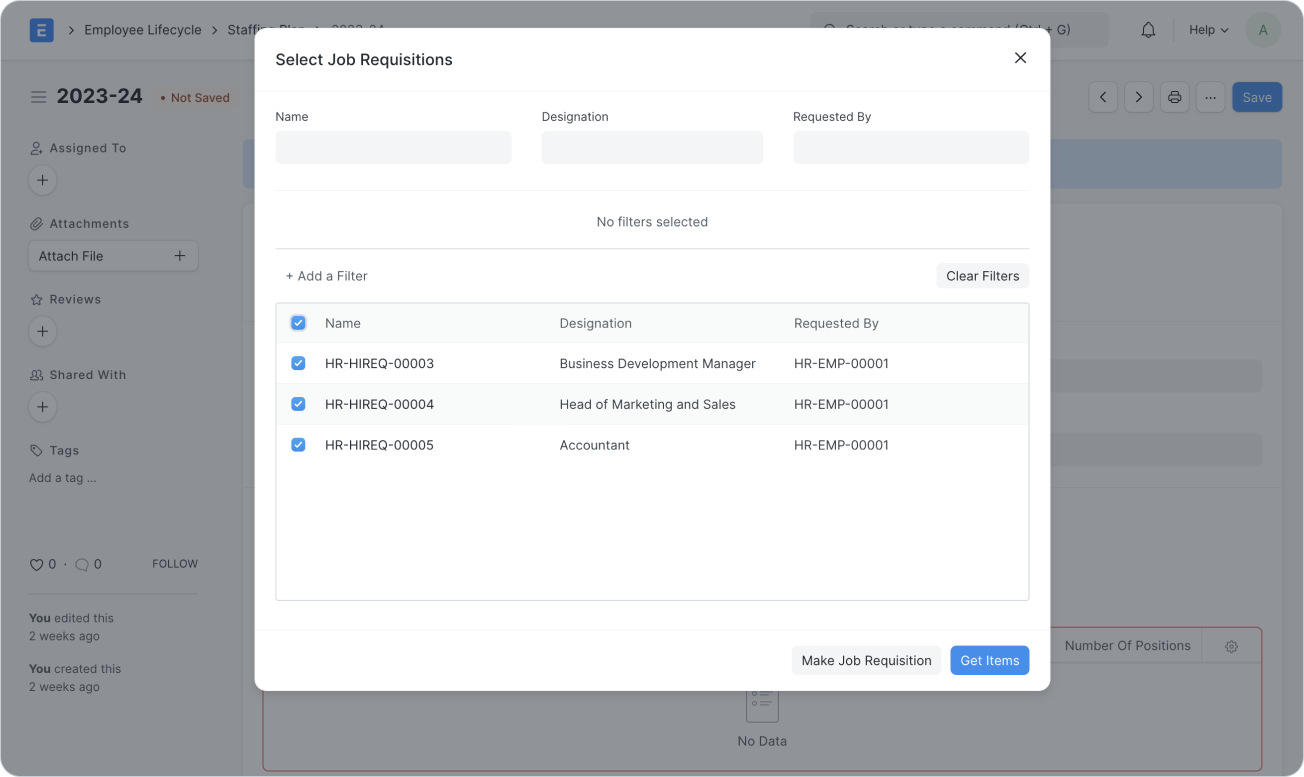 Configure the day for allocating earned leave
You can now configure the day of the month on which Earned Leave should get allocated.

Block leaves based on the leave type
Dany Robert from the community added a feature to block leaves specific to a leave type. Now, you can also add leave block dates in bulk for a particular day of the week within the selected period.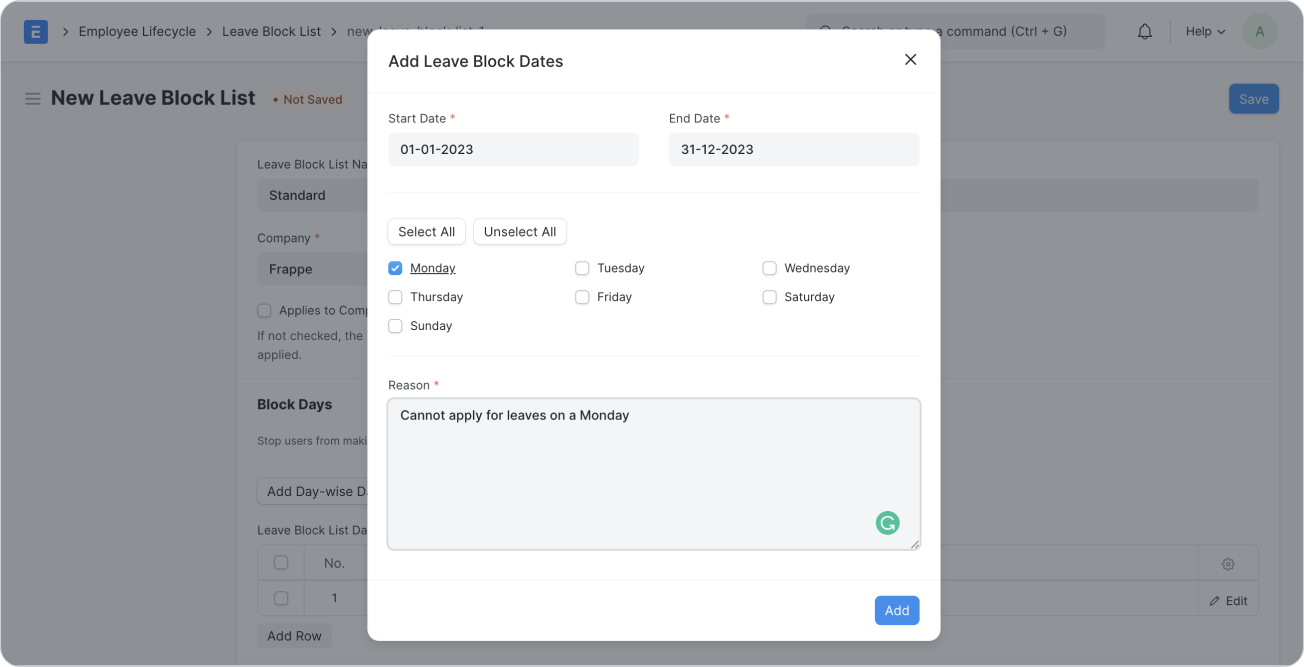 Mark attendance in bulk for an explicit period
Previously, you could only mark attendance in bulk for a specific employee for a particular month. Samuel Danieli from the community enhanced this functionality to allow marking attendance for an explicit time period.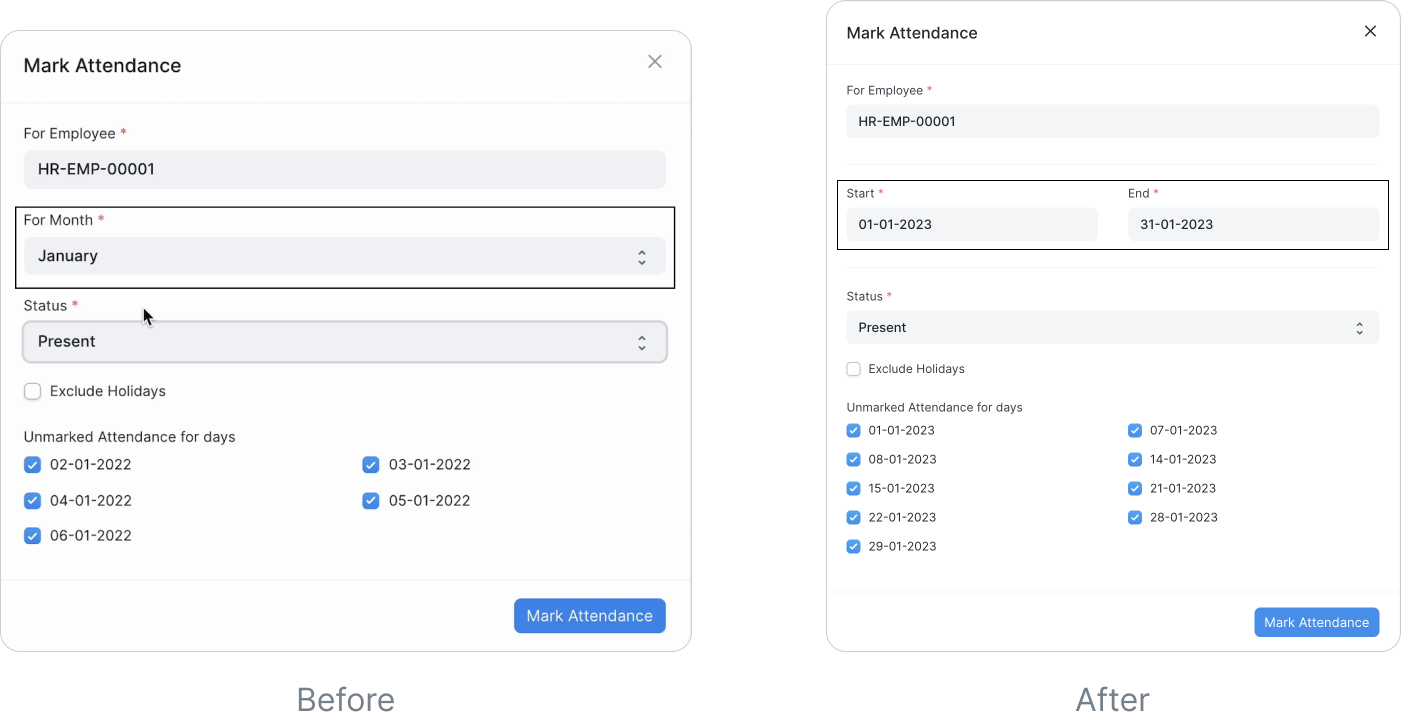 Payroll


Provision to set up opening entries for Earnings and Tax Deductions
We want to make your life easy whenever you decide to migrate your payroll to Frappe HR 😉.
With this feature introduced by Saurabh Palande, you can now set up opening entries for Taxable Earnings till Date and Tax Deducted till Date in the Salary Structure Assignment if there are no existing salary slips for the employee.

Employee-wise Accounting Entries
Previously, a consolidated Journal Entry was created against the Payroll Entry for all the employees. Saurabh Palande, added a provision to process employee-wise accounting entries to help you track employee-wise accounting.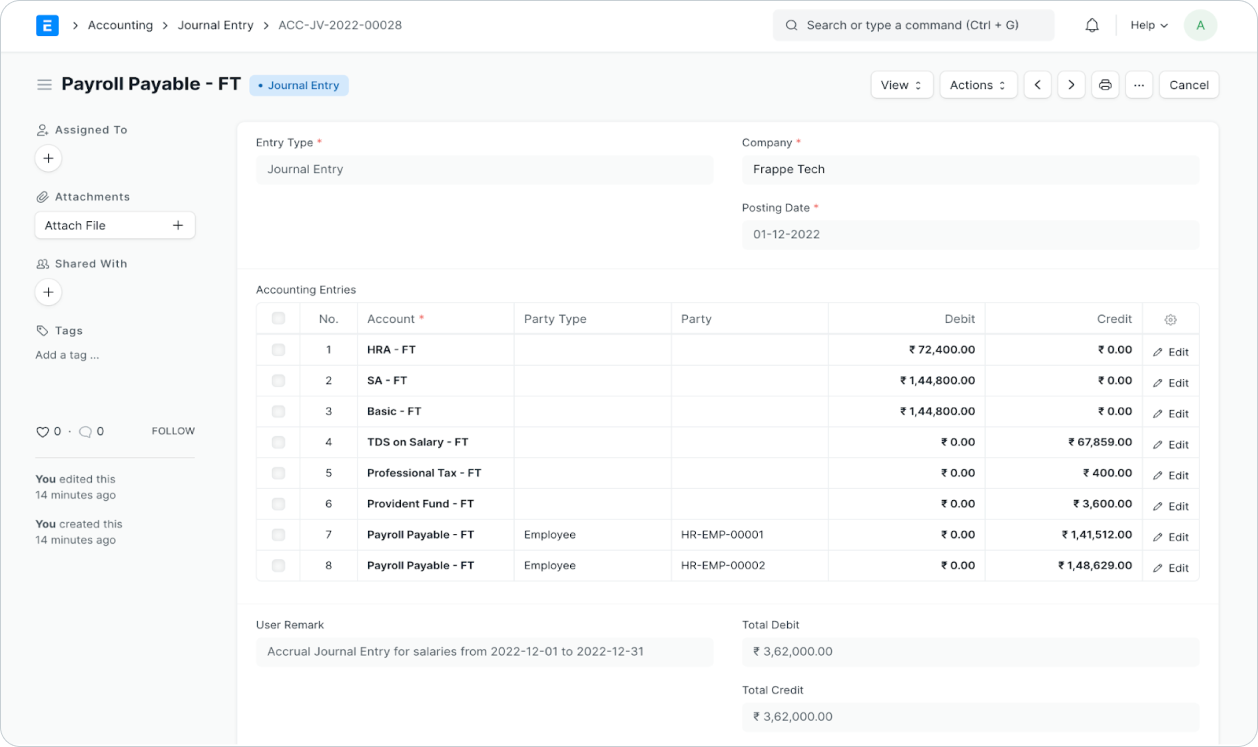 Tabbed View in Payroll forms
Payroll is cumbersome, but the forms don't need to be! All the payroll module forms now have a tabbed view to save you from scrolling indefinitely.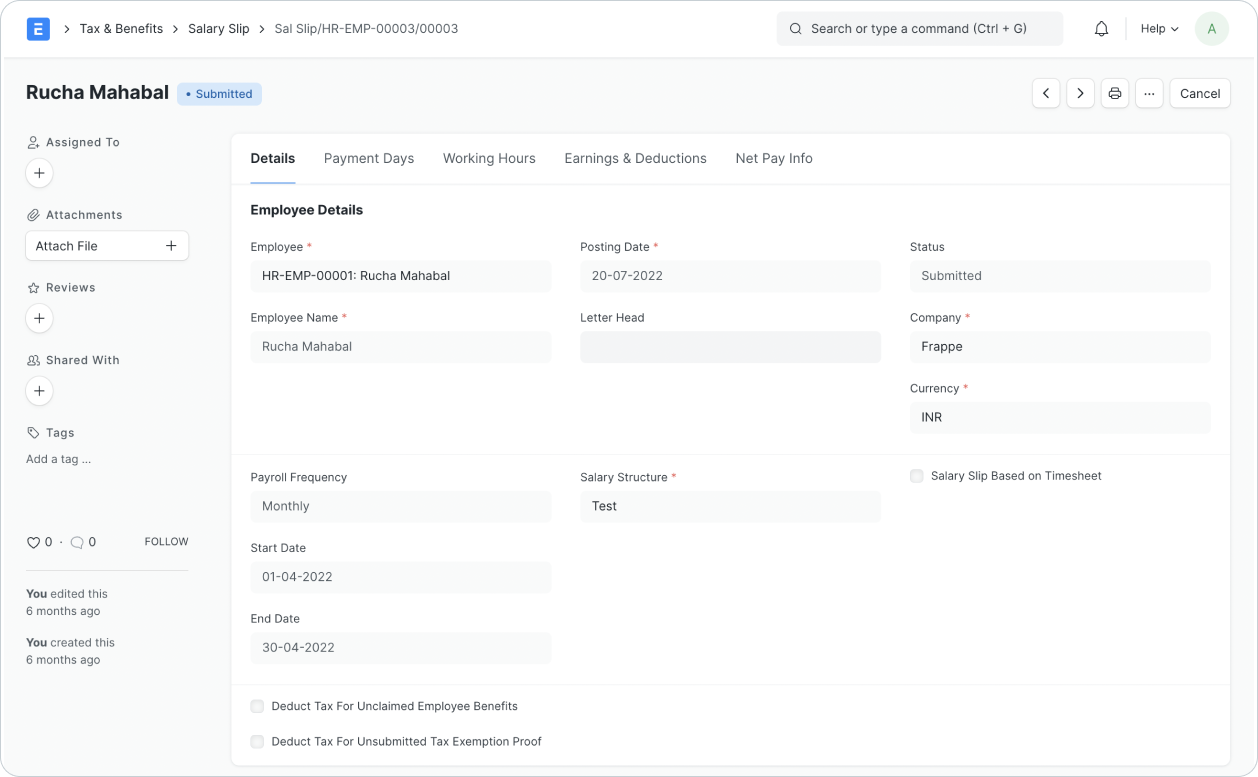 You can find the complete changelog for v14.0.0 here.
Stay tuned for more updates and star us on GitHub if you like what we've built so far!
---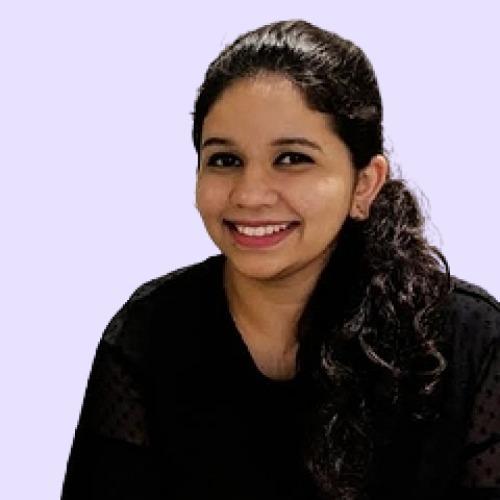 Engineering Lead | Product Engineer at Frappe Tech. Building and maintaining open-source products.